Something New in Your Neighborhood…
Sunset Ridge, a unique 14 home cul-de-sac community tucked away above the hustle and bustle yet near everything.  Each two story new home construction features 3 to 4 bedrooms plus a loft in up to 2,336 sq. ft. with a two car attached garage and concrete driveway.  These new homes in Escondido are efficiently designed and prewired for solar and charging stations.  Residents will enjoy oversized lots from 6,100 to 8,800 sq. ft. with city views from several lots.  This highly anticipated neighborhood is located in the popular North Escondido area bordering San Marcos, with parks and amenities galore.
14 Two-Story Homes
2,084 & 2,336 sq. ft.
3 – 4 Bedrooms, plus Loft
2.5 – 3 Baths
2-car Attached Garages
Prewired for Solar and Charging Stations

Samsung Microwave, Dishwasher and Range.

Shaker Styled Cabinetry & Quartz Countertops

No Mello Roos
Phase 2 Now Open. Call For Special Rates and Incentives.
We Have One Very Low Income Home Available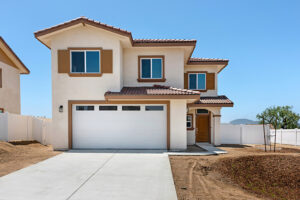 Raecorte Development processed a tentative map on the 2.56 acres of property at Raecorte Place in Escondido, CA with a density bonus requirement to accommodate one very low income home to be built within the 14 home lot subdivision. This home is located on lot 3 and features a Plan 1 with 2,084 square feet home, 3 bedrooms plus a loft, 2.5 baths, and an attached 2 car garage. The developer has received leads from the lender who works with builders in this area across the county. The builder has promoted the available opportunity on the Sunset Ridge website in an effort to gain a candidate list with back up candidates in the event this is necessary.
At this time, a candidate for the home is in the process of qualification. As we continue to work with this buyer, we are interested in continuing to build a back up list to assure the sale processed according to all San Diego County requirements.
Request Information


Call or text Kelly Kausen
(760) 670-7062

Request Info
Ask for pricing, homesite availability and more.
Ask about our Very Low Income Home for Sale**

Get Pre-Approved

---
*All numbers based on a purchase price of $959,900.  Rate 4.75%, APR 5.13%, 5yr Fix-6mo ARM (30yr loan, tied to the SOFR Index).  Rates and payments are based on credit score, loan to value, 20% down payment & subject to change. Points paid by builder to be 1.25.  Total Down Payment $191,980., Cash to Close estimated at $202,524, for scenario. Monthly Principal and Interest, $4,006, current as of 11/21/22.  All loans subject to approval. Rates, terms, and conditions are subject to change and may vary based on credit worthiness, qualifications, and collateral conditions.  Loan and monthly payment buying scenarios used for information purposes only and may not be specific to your situations.  Rates expressed may not be available at this time.  This ad should not be construed as investment or mortgage advise or a commitment to lend.  Your results may vary.  There are no guarantees, promises, representations and/or assurances concerning the level of accuracy you may experience.  For actual and current terms and rate information, please contact Barbara Tammen at Golden1 Credit Union, 858-315-0585, NMLS#451127.  APR of 5.13% assumes a 4.75% simple fixed interest rate assuming $2,000 in fees included in APR.  Monthly Principal and Interest Payment based on a fully amortizing fixed interest loan of $767,920. with 360 monthly payments at the assumed simple interest rate.  Lender is not a tax consultation firm.  Please seek advice from tax professional.  Monthly expense may or may not include HOA fees.  If applicable, your payment may be greater.
---
Very Low Income Home For Sale
**The developer with the County of San Diego has included one Very Low Income Home in Sunset Ridge for Sale. You may qualify if you earn no more than $65,000 annual and maintain a family of four on this budget. To add your name to the list of interested parties, please email Kelly@KellyCrews.com and Bbtammen@golden1.com. Featured home is  3 bedrooms plus loft, with 2.5 baths and an attached 2 car garage located on lot 3.  See site plan.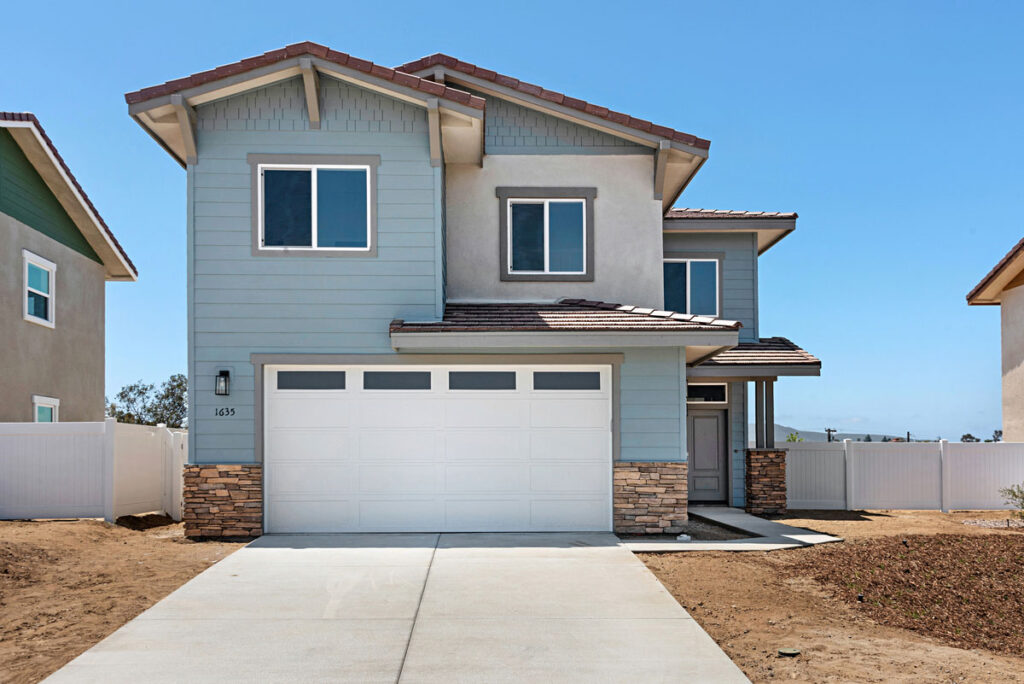 2,084 sq. ft.
3 Bedrooms, plus Loft
2.5 Bathrooms
Attached 2-Car Garage
Individual Lots from 6,100 to 8,800 sq. ft.
2,336 sq. ft.
4 Bedrooms, plus Loft
3 Bathrooms
Attached 2-Car Garage
Individual Lots from 6,100 to 8,800 sq. ft.
Sunset Ridge does not offer a broker co-op commission. Prices and features may vary and are subject to change. Photos are for illustrative purposes only. Learn more.
Nestled in an established residential setting just north of Rock Springs Road at Bennett Avenue in Escondido, Sunset Ridge offers a central location with all the best North San Diego County has to offer.  Enjoy scenic nature, hiking trails, parks with multiple recreational areas, or head to the beach in nearby Oceanside or Carlsbad.
Residents will appreciate living conveniently near schools, shopping centers, and restaurants.